I remodeled my house before I moved in. Fixed wall, ceilings and floors. Even put in a pole because some previous owner took out a supporting wall. I took the time to crawl under the house and run network and cable lines to all the rooms. So I was able to take some time and plan my Free TV project.
Many people want to know how I have everything setup.
---
Wiring Closet
Yes I'm a geek because I have a wiring closet in my home. But hey, you have to run everything somewhere. And it helps to have it all in one place. I happen to have a closet in my Dining Room that is perfect. It's in the center of the house and I can get to it easily in my crawl-space and attic.
This is just a cable splitter that I purchased at a hardware store. I didn't use a patch panel for the network. I was cheap and just plugged directly into the switch. The switch is an 8 Port LevelOne. There is a battery backup but that is mainly for the NAS.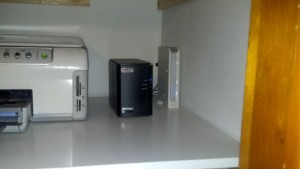 The router is an Asus with DD-WRT. It has a USB port and I was originally going to connect a hard drive to it, but that turned out to be a pain-in-the-butt. So I bought a CloudStor.
I have a Buffalo CloudStor NAS with 2 x 2 TB Hard Drives. I have all my movies, music and pictures stored on this thing. I like it but it is a little slow. It has Pogo Plug integration to I can access my files from anywhere, including my smart phone. I think their service is too slow. It does the job well, so I can't complain.
Then there is my trusty old HP PhotoSmart print. It has a network port, so I stuck it in the closet to get it off my desk. I don't print much at home.
---
Home Office
This is the wierdest. A friend of mine gave me her old Sony console TV. This thing is huge. But it has an HDMI port. I have it setting on an old foot locker. The computer is an old AMD Athlon x2 4400+ with 4 GB of RAM running Windows 7 Professional 64. There is a WinTV card for local stations. Of course all the content is pulled from the CloudStor.
---
Bedroom
This is where my Boxee is. I love my Boxee. It is a first generation version. The second generation has a builtin TV tuner. I'll get one of those some other time. The Boxee does everything but Hulu. But I heard there was a hack for that.
---
Livingroom
This is my best one. Mini-ITX case with an Intel Core i3 and 4 GB of RAM. Running Windows 7 Professional 64. I have two HDMI outs, one for the TV and one for the Projector. I love movie night.
---
Having a computer as your TV receiver is very flexible. You can do just about anything. But they are expensive compared to an appliance solution like the Boxee or Ruku. As you can see, I'm not using anything cutting edge. And I am very entertained.
Windows Media Center has been the most popular way techies has been watching TV with their computer. It works with all your video and video formats. Just about everything supports it. It has been around a long time. Fairly mature.
Benefits:
Organizes media: Audio, Movies, Videos, Pictures
Native Netfix Support
Supports TV cards: Over-the-Air Analogue & Digital.
Supports Digital Cable Cards
Problems
Movies section is really slow if you have a lot of movies
You need to dedicate a computer
---
Windows 8 Media Center
Just read about the Windows 7 Media Center. I can find no difference in Windows 8 except you have to pay for it. I do not think they changed anything.
Windows 7 Media Center
This is the best version yet. There are a ton of plug-ins. I use it as a front-end to also run XBMC and Hulu. At one time I used Boxee but Boxee discontinued the PC version.
Windows Vista Media Center
Several improvements of XP. Stable. I did set this up for a customer because the laptop they were using had it pre-installed. Since Vista is slow they eventually upgraded to Windows 7.
Windows XP Media Center Edition
I didn't use this very much. I found it kind of buggy.
---
There are websites that will allow you to watch all kinds of movies and TV shows. I've know people who setup a computer to their TV and browse to these sites (illegal???) and open it. They may even have a wireless mouse and keyboard on the other side of the living room. Me… I like using a remote control. I'll write a post about remote controls some other time.
The type of media you stream will depend on the media center you use. Not all content providers support all devices or programs.
| | | | | | |
| --- | --- | --- | --- | --- | --- |
| | Antenna | Netflix | Hulu | Amazon | Vudu |
| Windows 7 Media Center | Yes | Yes | 3rd Party Plugin | Download & Play | No |
| Windows 8 Media Center (Pro Pack) | Yes | Yes | 3rd Party Plugin | Download & Play | No |
| Boxee Box | 2nd Gen | Yes | No | No | Yes |
| Roku | No | Yes | Yes | Yes | Yes |
| XBMC | 3rd Party Software | No | 3rd Party Plugin | 3rd Party Plugin | No |
| Western Digital TV Live | No | Yes | Yes | No | No |
| Smart TV | Maybe | Maybe | Maybe | Maybe | Maybe |
| Fancy Blueray Player | Maybe | Maybe | Maybe | Maybe | Maybe |
As you can see there is no all-in-one solution. This can be frustrating. The device manufacturers rely on the content providers to create the software to run on their device.Since each device is different the content providers can get overwhelmed with supporting all these devices. Sure you might find a Smart TV that can access it all but TV manufacturers have a habit of not supporting their equipment after a year or so. Then you do not get the software update to fix a problem because the content provider changed something.
Netflix (4/5 Stars)
This is the best all around. You get unlimited TV and movies and it works on just about everything. TV shows are usually a year old at least. Movies are lacking. If you have kids then you will love all the Disney movies.
Hulu (3/5 Stars)
They have new TV shows. But they also have commercials.
Amazon (3/5 Stars)
Doesn't work on very much. Has about the same content as Netflix.
Vudu (2/5 Stars)
These guys are expensive for a 24 hour rental. I can go to RedBox and rent a DVD for $1.29 and keep it 24 hours. Vudu wants $4.99 for standard and $5.99 for HD. It's cheaper to burn the gas and drive to RedBox. They sell DVDs too. But they are priced at expensive shopping mall prices. They should at least try to compete with Walmart. But if you do not feel like going out, I guess $4.99 is okay to watch video on demand. That's about a cable company will charge you, and they are making a killing.
Antenna (4/5 Stars)
You get your local stations. Depending on your device, you can set it to record your shows and watch them later. (Windows Media Center & 2nd Generation Boxx). I like watching the local news so an antenna is a must. News on demand is not news.
When I was learning where to position my TV antenna I ran accross a website where all the TV stations were listed for metropolitan areas. The website is tvfool.com. The files are KMZ which open in Google Earth. All the files are Torrents. If you live in the Nashville area you can download that map from my Dropbox: https://www.dropbox.com/s/f30trg6ai97xfx2/Nashville_TN.kmz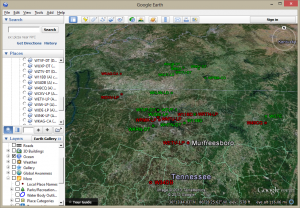 The map shows the position of the transmission towers. You can even breakdown the map by digital and analogue. Very cool.
For about 2 years now, I have not paid for TV. Well I do subscribe to Netfix so I will rephrase that: I do not pay for TV service.
The home I live in was trashed by the previous tenant. I took some time to fix it up before I moved in. I had to fix walls and ceiling and floors. Paint everything. I even had to put in a pole because some dummy removed a supporting wall in order to expand the kitchen.
While I was doing all this I thought about my tech additions to the house. Of course it is going to be networked. I'm a Tech Geek after all. Since I'm running CAT5 all over the house I might as well run COAX. At least the COAX will improve the value???
While I was planning this, I had a customer need 150 FT of CAT5. He didn't have any money but offered me a 1000 FT roll of RG6. No problem, the trade was made. But I didn't know the difference between RG6 and RG59. I didn't realize there was a different until I started teaching myself how to install compression ends. Of course I purchased RG59 ends.
RG6 – Better shielding. Designed for digital signals. Satellite, Digital Cable, Digital Antenna.
RG59 – Best for analogue, CCTV cameras, old CATV.
I was putting in a digital antenna. RG6 was perfect.
So one Saturday, I cut holes in the walls and I crawled under the house. I ran CAT5 and a COAX to each room. 2 in my office. I ran one pieced of COAX up the wall into the attic. That is where I mounted the antenna.
When I hooked everything up I got about 8-10 channels. I didn't get anything when it rained. Something wasn't right. So I moved the antenna outside and mounted under the eave. I live in Clarksville, TN. Just about all my TV stations are in Nashville. Nashville is southeast from Clarksville. I just happen to have a southeastern side on my house.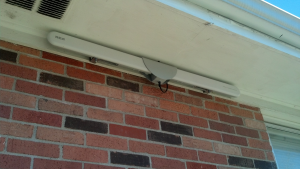 The antenna I am using is an RCA Indoor/Outdoor Digital TV Antenna ANT806. It does come with the hardware to mount it on a pole. Now I get 15 channels in clear HD. They do cut out a little when it rains really hard. But it is not as bad as satellite.
You do need an amplifier. This antenna DOES come with one. If you have to purchase an amplifier separately, make sure it supports digital or it will not work.
I will be writing more about my Free TV in the future.