I remodeled my house before I moved in. Fixed wall, ceilings and floors. Even put in a pole because some previous owner took out a supporting wall. I took the time to crawl under the house and run network and cable lines to all the rooms. So I was able to take some time and plan my Free TV project.
Many people want to know how I have everything setup.
---
Wiring Closet
Yes I'm a geek because I have a wiring closet in my home. But hey, you have to run everything somewhere. And it helps to have it all in one place. I happen to have a closet in my Dining Room that is perfect. It's in the center of the house and I can get to it easily in my crawl-space and attic.
This is just a cable splitter that I purchased at a hardware store. I didn't use a patch panel for the network. I was cheap and just plugged directly into the switch. The switch is an 8 Port LevelOne. There is a battery backup but that is mainly for the NAS.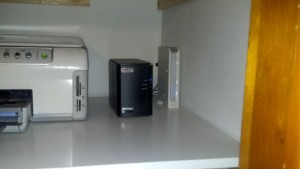 The router is an Asus with DD-WRT. It has a USB port and I was originally going to connect a hard drive to it, but that turned out to be a pain-in-the-butt. So I bought a CloudStor.
I have a Buffalo CloudStor NAS with 2 x 2 TB Hard Drives. I have all my movies, music and pictures stored on this thing. I like it but it is a little slow. It has Pogo Plug integration to I can access my files from anywhere, including my smart phone. I think their service is too slow. It does the job well, so I can't complain.
Then there is my trusty old HP PhotoSmart print. It has a network port, so I stuck it in the closet to get it off my desk. I don't print much at home.
---
Home Office
This is the wierdest. A friend of mine gave me her old Sony console TV. This thing is huge. But it has an HDMI port. I have it setting on an old foot locker. The computer is an old AMD Athlon x2 4400+ with 4 GB of RAM running Windows 7 Professional 64. There is a WinTV card for local stations. Of course all the content is pulled from the CloudStor.
---
Bedroom
This is where my Boxee is. I love my Boxee. It is a first generation version. The second generation has a builtin TV tuner. I'll get one of those some other time. The Boxee does everything but Hulu. But I heard there was a hack for that.
---
Livingroom
This is my best one. Mini-ITX case with an Intel Core i3 and 4 GB of RAM. Running Windows 7 Professional 64. I have two HDMI outs, one for the TV and one for the Projector. I love movie night.
---
Having a computer as your TV receiver is very flexible. You can do just about anything. But they are expensive compared to an appliance solution like the Boxee or Ruku. As you can see, I'm not using anything cutting edge. And I am very entertained.