Preparing to Move to CRM 2011 Online
I'm moving from Dynamics CRM 2011 On-Premise to Online. Microsoft gave me a better deal.
I'm transferring my data via the Connector for Microsoft Dynamics and CRM Instance Adapter.
My new CRM Online is plain and does not have all my customizations, entities, reports, etc. So I have to export my customizations and import them into CRM Online. Since Microsoft doesn't have a direct migration solution. So I open CRM go to Settings –> Customize the System –> Export Solutions and download the solution. Then go to CRM Online and import my solution. That was too easy. Mine failed to import on a custom report. No real specifics to Google why. I tried opening the archive and remove report. Didn't work. Edited the XML. Nope.
Maybe I did bad practice when I created and edited the customizations. I don't know. So here is what I did to fix it: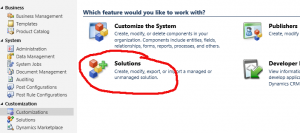 On your On-Premise CRM go to Settings –> Customizations and click Solutions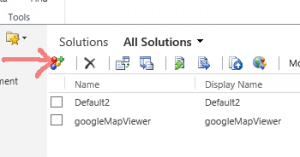 In Solutions, click on the New Solution icon. Give it a name. I called mine Default2. Fill out all the other required crap. You can go ahead and Save if you want.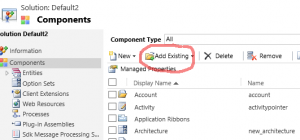 Now click on Components on the left menu. Then Add Existing.
What you are doing is adding existing components that you have customized or created. This section will show all components but you can narrow it down by select a component on the left, like Entities. Then you can choose from just Entities. Once you get all your stuff in the new Solution, export it. Then you can Import it into CRM Online.
8 Responses to Preparing to Move to CRM 2011 Online