MATTMAN
I recently moved to Dynamics CRM 2011 Online. The new forms suck. They are pretty, I'll give them that, but they are not functional. Maybe I'm missing something. I'll figure it out later. But I need to work.
I still have my old forms.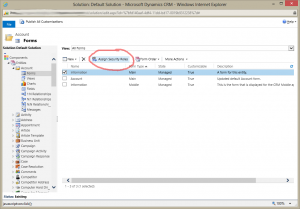 Go to Settings –> Customizations –> Customize the System –> Entities –> Accounts –> Forms. Select the new form and click the icon Assign Security Roles.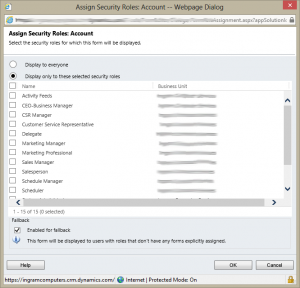 Now just move the radial button to Display only to these selected security roles and un-check every security role. Then no one has permission to it and it will default back to the old form.
I guess I could have just deleted it. But I might change my mind and like the new form later.
I'm moving from Dynamics CRM 2011 On-Premise to Online. Microsoft gave me a better deal.
I'm transferring my data via the Connector for Microsoft Dynamics and CRM Instance Adapter.
My new CRM Online is plain and does not have all my customizations, entities, reports, etc. So I have to export my customizations and import them into CRM Online. Since Microsoft doesn't have a direct migration solution. So I open CRM go to Settings –> Customize the System –> Export Solutions and download the solution. Then go to CRM Online and import my solution. That was too easy. Mine failed to import on a custom report. No real specifics to Google why. I tried opening the archive and remove report. Didn't work. Edited the XML. Nope.
Maybe I did bad practice when I created and edited the customizations. I don't know. So here is what I did to fix it: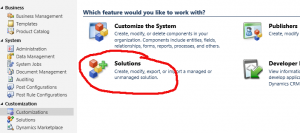 On your On-Premise CRM go to Settings –> Customizations and click Solutions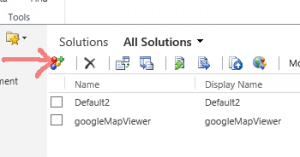 In Solutions, click on the New Solution icon. Give it a name. I called mine Default2. Fill out all the other required crap. You can go ahead and Save if you want.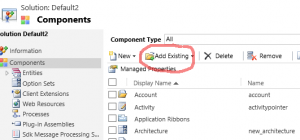 Now click on Components on the left menu. Then Add Existing.
What you are doing is adding existing components that you have customized or created. This section will show all components but you can narrow it down by select a component on the left, like Entities. Then you can choose from just Entities. Once you get all your stuff in the new Solution, export it. Then you can Import it into CRM Online.
So Microsoft talked me into signing up for their Cloud Partnership. So I decided to move my Dynamics CRM 2011 on-premise installation to online. Why? Well I only get 5 users with my local version and I get 25 users in the Online version. Also it seems like everything I want to integrate with it is made for Online and not On-Premise. Also I can free up a server to try out goofy tech things.
So now how do I get my stuff "In The Cloud?" I found plenty of results for moving to On-Premise. I also found many results of companies that will do it for me. Well Microsoft doesn't really have a direct solution. But they do have the Connector for Microsoft Dynamics and Microsoft Dynamics CRM 2011 Instance Adapter.
The Connector for Microsoft Dynamics is made to integrate GP, AX, SL, etc. I was confused on which one to download because there was no one specific to CRM and there was not a generic one. From what I've read online, it doesn't matter. I downloaded and installed the one for GP. Also, this does not have to be installed on the server hosting CRM. You can install it on your desktop.
Once the Connector is installed, you basically extract the contents of the Instance Adapter Zip file into the Connector install folder. Be sure to read the instructions.
Now when you open the Connector it will ask you about your CRM source and destination. The this JoeCRM guy at powerobjects.com wrote this great tutorial. http://www.powerobjects.com/blog/2012/10/26/configure-microsoft-dynamics-crm-2011-instance-adapter/
This is not Magic Pixie Dust. You still have to do some work.
If you haven't imported your customization yet into CRM Online, this post will help you.
I'm not going to re-write instructions because right now I'd rather be playing Far Cry 3. Again thank you JoeCRM http://www.powerobjects.com/blog/2012/10/26/generating-maps-dynamic-crm-instance-adapter-integration/
Basically you are mapping each Component. Reports to Reports, Accounts to Accounts, Contacts to Contacts. The Connector synchronizes each one. As far as I can tell it just does it in alphabetical order by component. So it does take some time and planning. It will not be perfect and you will have to fix something. This is kind of like the Chicken and the Egg problem.
I started with basic components that were not dependent to other components.
Options Sets
Web Resourced
Products Entitity
Since everything is linked to Contacts and Accounts I tried to get everything I needed for them. Then I synced the Accounts and waited. Then synced the Contacts and waited. I hope you get my point.
I did lose all my primary contacts on the Accounts. But I had to weight what was more important. If I synced the contacts first then none of the Contacts would have been associated with the Accounts. Seems like less work to add the Primary Contacts back.
You can leave the Connector running and it will sync every 5 minutes. So if you have other people working in CRM you will get the stuff they added.
01302000
SUPERBOWL 34
Titans & Rams
So what's all the hype. The Tennessee Titans in the Superbowl, that's what!. The past two years they were 8-8 and now they're 13-3, AFC Champions and kick everybody's butt.
I'm so proud of my home team. This is the first state I've lived in that has had a home NFL Football team. Since I'm poor and cannot go to the Superbowl, I'll be hosting a Superbowl party. Check us out on THE MATTCAM. We'll have pizza and beer and my almost world famous Asshole Chicken Fingers. Why are they called Asshole Chicken Fingers? Because when you're sitting on the toilet in the morning you'll be calling me an asshole while your asshole is burning!
Well I'll cut it off here and give you what I think of the game and the festivities when it's all over.
To be continued…
That was the best damn Superbowl I have ever seen. I guess it would have better if the Titans would have won. But they played their hearts out. Personally I would never have thought they would ever get this far. They played like a team and they fought like a team. I'm damn proud of them. One thing I've noticed about the Titans is they play with heart. I have a feeling that next year they are going to dominate the AFC.
Titans I hope your not feeling to let down by this defeat. You have made your fans proud. I hope the best for you and your families this off season. Every game this year you have gotten better. Next year you'll be the best. I doubt any of you will ever read my small insignificant web page, but this is where I write my thoughts, feelings and most importantly my Adventures.
01162000
Cock Tease
Its been a long week. I head to the bar for a beer. Good thing I'm in walking distance or I would loose my license one of the days. I walk in, "Wow, new bar tender… and she's hot." So I talk to her. She's seem really cool. I stay later than I should, but I do get her phone number.
My brother calls me the next day and tells me how he broke up with his girlfriend. I tell him cool. Let's go to the bar. But the bar I want to go to is where is now ex-girlfriend works. She'll probably be there, but I talk him into it anyway. She wasn't there but the girl I wanted to see was. She was the waitress that night. So we got a table. She gave me as much attention as a waitress in a busy bar could. My brother's ex came in so we left early. The chic told me when she was working but I knew my schedule was busy. But I got to the other bar she was working on a Friday. This was when I really got to observe her. I'm not sure I got anymore attention than the rest of the poor saps. That's what I get for thinking with my you know what.
After talk with some of the people she works with, I found out that this was how she operates. She should be a dancer or something. If I see her again I'm going to be straight with her. If she say, we should just be friends, I'll tell her I have enough friends. But I don't think I'll see her again.